TekEdge - Engineering Courseware - Leveraging Technology for Effective Learning
Comprehensive Engineering Teaching & Learning Solution
The Ministry of Human Resource Development (MHRD) committee on faculty shortage has assessed that there is a shortage of 3.8 lakh teachers at the higher education level, which is 50 per cent of the current requirement. It estimates that after a decade, the requirement of college teachers will be 13 lakh.

The teacher-student ratio is badly skewed at the moment. Overall, it is nearly 21 students for each teacher whereas the University Grant Commission (UGC) norm for the undergraduate courses is 1:15 and for the postgraduate courses it is 1:13.5.

This shortage of quality faculty is being felt acutely by the new colleges, which have difficulty attracting experienced staff. New colleges are forced to opt for less experienced and qualified teachers.

There is a marked difference in the experience of faculty of top-rung colleges and the rest. While the average faculty experience in top colleges is between 10 and 15 years, the average faculty experience in other colleges is 0-5 years.

Students join engineering with aspiration of fulfilling their career ambitions, be it employment or higher education. Faculty play a vital role in realizing student dreams and moulding them into well rounded professionals.

The two concerns, i.e., Shortage of faculty and quality of the faculty are plaguing the system and have to be addressed to enhance teaching-learning experience and fulfill student aspirations.

Infusion of Technology into the classroom provides edge to the faculty and students. TekEdge synergizes faculty efforts and ICT effectiveness, making classroom learning livelier, interactive and interesting.

Standardized teaching methodology, quality content, picture & animation library, etc. facilitate in consistent delivery in the classroom.

TekEdge facilitates faculty explain complex concepts to students in an easy to understand manner through rich multimedia, audio, video, animations, simulations, etc.

Quiz after each concept and self-learn engineering courseware will reinforce concepts and improve understanding amongst students.

TekEdge is an ideal tool to enhance teaching effectiveness and make classroom learning interactive and effective.

TekEdge provides the following for the faculty to use while teaching:
Content PPTs
Animations
Images / pictures
Quiz
Self-Learning courseware with voiceover
It aims to improve student pass percentage, academic marks percentage, and help crack competitive exams.

It enhances the quality of the graduating students and provides competitive edge to the institution.
Learn at your convenience, anytime and anywhere.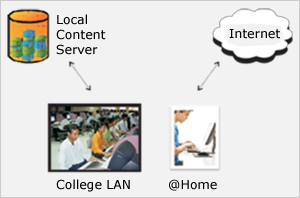 Once your teacher teaches you in class, you can have access to the self-learnable modules in the college lab/Internet to learn the concepts in your own pace.

TekEdge is a self-paced, 24x7 accessible solution.

It enhances retention, participation with an engaging, interactive, rich multimedia content and reiterates the content without any limit till you fully understand the concepts.